Why Parents Are Gifting Flare
Your loved ones should never feel vulnerable or alone. That's why the Flare safety bracelet helps them exit unsafe situations with the press of a button.
This shouldn't have to exist
1 in 3 women and 1 in 4 men experience sexual violence. This is heartbreaking and personal to us, because we are survivors ourselves. Our mission is simple: to put ourselves our of business and create a world where Flare isn't needed.
Help them never feel vulnerable
The Flare bracelet connects via bluetooth with our free iOS app to set up your emergency system.
When you gift Flare, you're giving your loved one and yourself a peace of mind.
Unlike pepper spray, whistles, or alarms, Flare fits into their life because it looks like beautiful jewelry.
Flare's bracelet and app allow anyone to exit unsafe situations with one easy press.
When you feel unsafe, press the button

Your GPS location and a message will instantly be sent to 5 contacts. You are never alone with Flare.

Connect with 911 instantly

Turn this free and optional feature on to send your GPS location and an alert to a dispatcher who will help you immediately.

Tap once to get an incoming call to leave

Your excuse to exit before things escalate is a pre-recorded call that sounds real.

Connect with the free iOS app

Easily pair your bracelet via Bluetooth, set up your emergency contacts, and pick a pre-recorded call
Got one for each of my girls! My senior is a marketing major and she's always on-the-go. Flare bracelets give her and me peace of mind knowing she can get help when she needs it!

I bought a Flare bracelet and after wearing it myself for a couple of weeks, bought one for my daughter (15 at the time). After about a month, I told every mom I knew about Flare!

My daughter and I love our Flare bracelets. So easy to set up. They are beautiful and inconspicuous to use.

Thanks for making safety a positive experience! Just received my package and I wanted to say just the most heartfelt thank you for everything in it and for creating such an amazing product!

Gives me and my family peace of mind on my sister's safety while she is on her own and that in itself is priceless.
Compare Flare

Looks like beautiful Jewelry

Discreet & beautiful

Easy to access

Versatile for all situations

Quick to activate
Pepper Spray /
Alarms & Whistles
Looks like beautiful Jewelry

Discreet

Easy to access

Versatile for all situations

Quick to activate
The Gift For:
The college student
1 in 4 women in the US experience sexual assault or attempted rape while in college - it's heartbreaking. Your child should be focused on exploring their independence, and you should have peace of mind.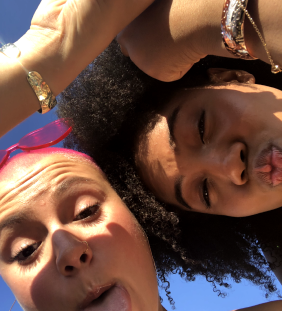 The city explorer
Know someone who moved to a new city? This should be exciting, not stressful. Help them never feel vulnerable while our exploring nightlife, dinners, and other explorations.
The hard worker
Is your loved one constantly on the move going to work, the gym, walking, or going to social events? Flare is the perfect gift to keep them safe wherever they go.
The dog walker
Love walking your dog alone but feel vulnerable when doing so, especially at night? Flare helps dog lovers stay independent and safe.
The self-gifter
Do you ever feel alone or worried? Flare is with you all the time - so you can get help whenever you need it.
The online dater
Want to feel in-control when you meet up for online dates? With Flare, you won't have to worry about these meet ups, because you can get help with the press of a button whenever you need it.
Styles for everyone
Flare is guaranteed to fit anyone's current aesthetic and feel good to wear.